School Emblem
SCHOOL EMBLEM
St. Joseph's Convent School is Established with the motto,
" VIRTUE ALONE ENNOBLES "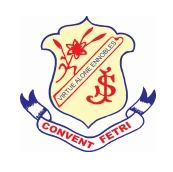 Every institution has an emblem which gives it, its particular identity. so also St.Joseph's convent Sr. Sec. School has its own significant emblem with its motto inscribed on a shield. Every Josephite must know his/her emblem and its meaning and be worthy of it.

Inscribed within the emblem is the school motto "Virtue Alone Ennobles". It is virtue alone that makes a student, not her/his education, not her colour, not her/ his race or caste to which she/he may belong.To become noble in character is an arduous life-long task, "Rome was not built in a day".

The Lily is symbolic of the pure life of St.Joseph.Every Josephite must strive to be gentle, simple, pure and good, for that is the glorious flower of Humankind.
Managed By
SISTERS OF ST.JOSEPH OF CHAMBERY
(NAGPUR PROVINCE)